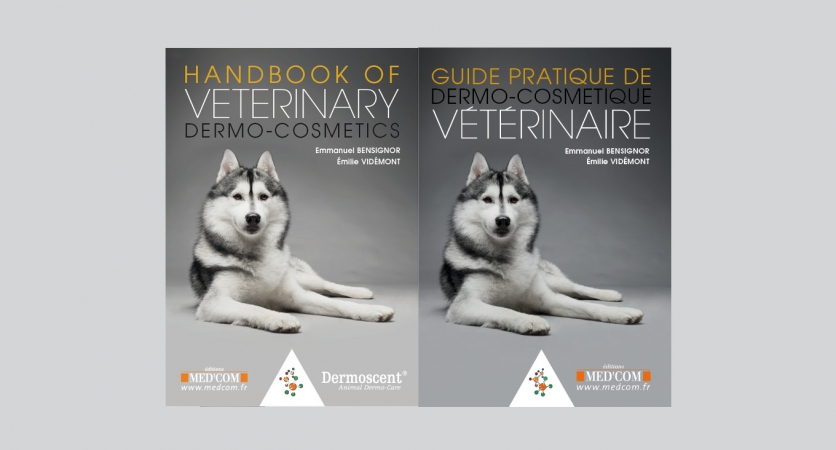 Guide pratique de derme-cosmétique vétérinaire
Handbook of veterinary dermo-cosmetics in partnership with Dermoscent
Une visé international par la publication des livres en versions anglaise et française.
La cosmétologie est un art ancien particulièrement mis à l'honneur dans notre société. Mais les retombées en sont encore confidentielles pour les chiens et chats.
Cet ouvrage, premier du genre, présente les dernières connaissances de la structure et du fonctionnement de la peau du chien et du chat, et notamment de la barrière cutanée (ainsi que les paramètres disponibles pour en évaluer l'intégrité); les principales formes galéniques disponibles en cosmétologie sont présentées à la lumière de ces données. La place des cosmétiques dans l'entretien des peaux saines, mais également en appui des traitements dermatologiques.
Les auteurs, Dr Emmanuel BENSIGNOR et Émilie VIDÉMONT, sont vétérinaires, spécialistes en dermatologie vétérinaire, diplômés du Collège Européen de Dermatologie Vétérinaire
Cosmetology is an ancient art that is currently being given pride of place in our society. But the benefits for dogs and cats are still a well-kept secret.
This book, the first of its kind, set out the latest knowledge on the structure and functions of dog and cat skin and, in particular, the skin barrier (as well as factors to assess its integrity); the main dosage forms available in cosmetology are shown in light of these data. The place of cosmetics in maintaining healthy skin, but also in supporting dermatological treatments.
Authors, Dr Emmanuel BENSIGNOR and Émilie VIDÉMONT, are veterinarian, specialist in veterinary dermatology, graduate of the European College of Veterinary Dermatology.
Découvrez le sommaire de l'ouvrage et un extrait sur le site des éditions Med'Com.